One of the most exquisite truths of the human condition is our yearning to express our being, and may we all discover some format in which to do that. Some act where we feel our truest self when partaking, the physical manifestation of us crying out that we exist, we were here, this complex, multi faceted, roguish thing.

The stream of consciousness that resides in all of us, crying to get out, to engage in life in a tangible way. The multiplicity of formats in which we may choose to dedicate ourselves to is vast, and therefore it is even more fascinating as to why people choose the art they choose. Why is one person able to transmute their internal being in one way, and another person not. We are all complex, multi faceted, perplexing and wondrous things, we may know our own superpowers (or suspect we know them), but how special to bear witness to someone else's.

What follows is an ongoing series between KCP Collective x Order Magazine, a momentary ride through the immeasurable realms of people's minds. The stream of consciousness from the minds of alchemists, those who transmute their inner consciousness into tangible energy; music, art, dance. Love.
JESSICA TICCHIO
3D ART DIRECTOR & CREATOR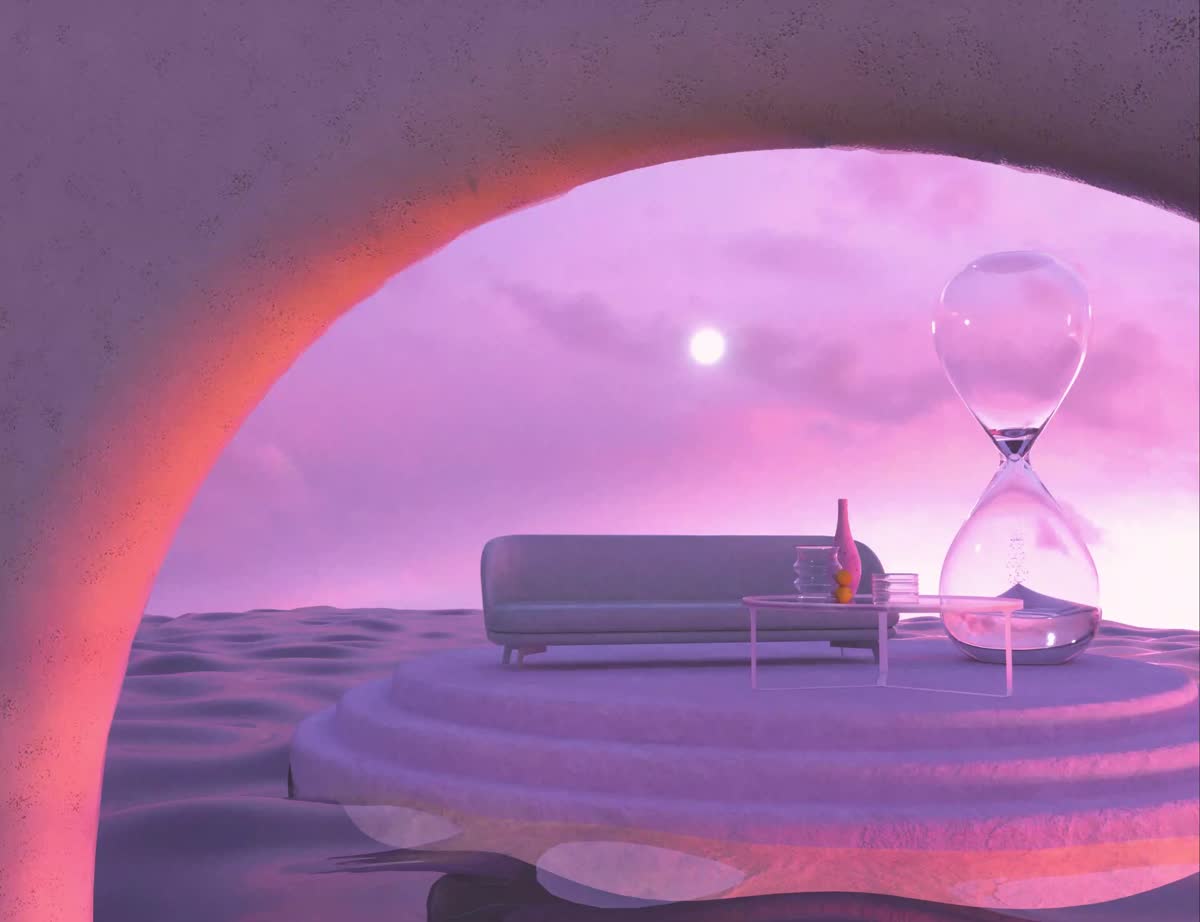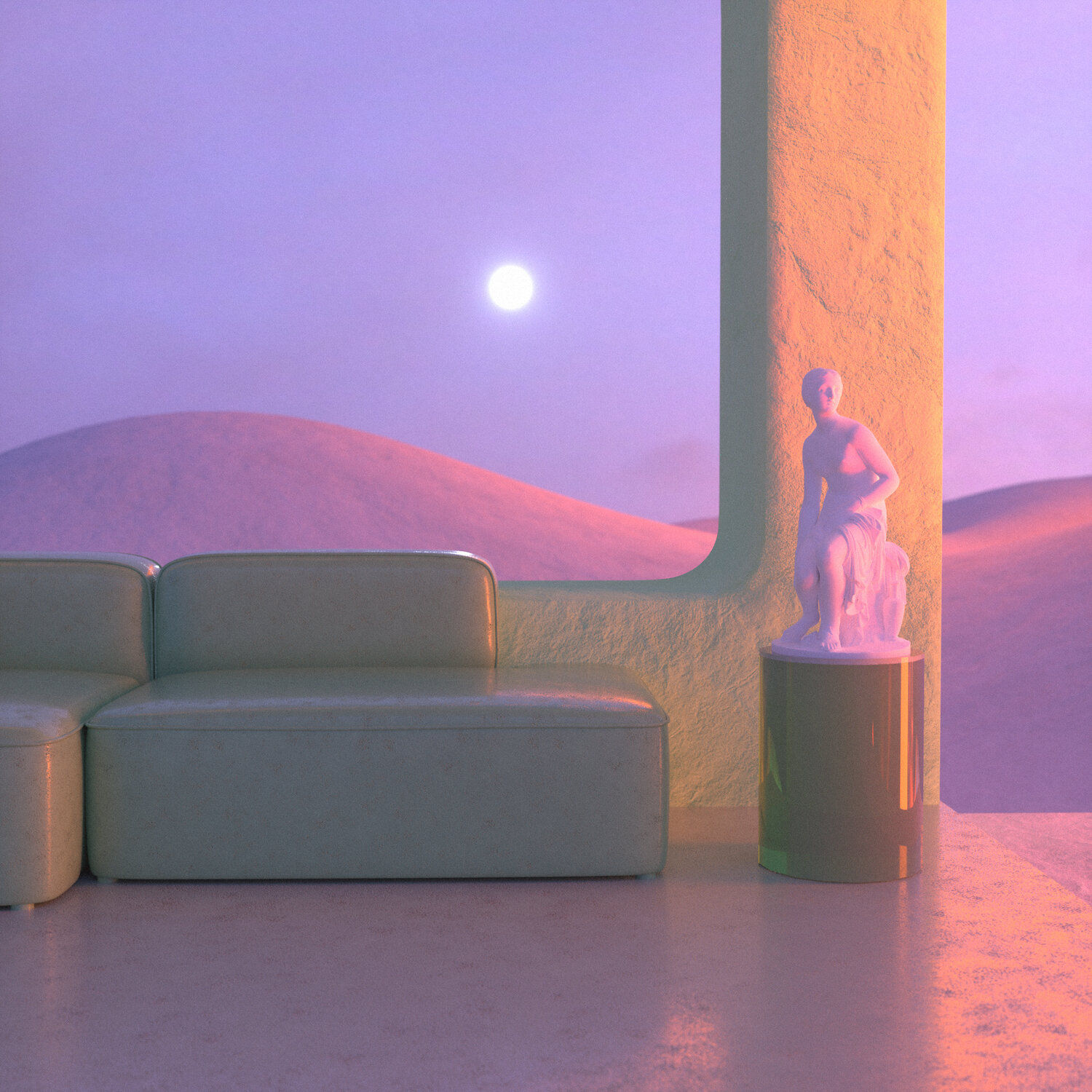 Inspired by minimalism, surrealism and ubiquitous sculptural forms, Jessica reimagines the world through a contemporary art lens. Her work aims to evoke peace & calm, whilst bending the concept of reality as we know it; playing with the line between the real and surreal.
What's your work process like? Does the formula mimic how you approach the rest of your life?

I work on my art every day, making progress on projects gradually and refining over days, weeks and months. I'm completely anti spending whole days in front of a computer. If I can do a part of my work via my phone too, I'm 100% doing it outside (basically all of my art writing & emails are written using voice dictation while walking around the park or lying in the sun like a lizard girl). I also find it hard to start any of my art work until I've gone for my morning walk, preferably out in nature. I'm still not sure if this makes me more productive or less efficient, but it definitely makes me happy :~)


What's going through your mind while you work, are you consciously checking in with the concept or do you kind of get lost in the process?

I always start with a rough idea of what I want to make, but also always get absolutely lost in the process. It's like I'm in a trance, I love it. I'm a nerd when it comes to planning and scheduling things in life in general, so I find it really nice not knowing where I'm going to end up.


Your colour palettes are so soft, nostalgic, romantic. Is there a meaning or feeling behind this?

My art practice has always been something I do for myself — a nice way to relax and spend my time, like mindfulness and meditation. For my audience — I would never want my art to feel like hard work to view or engage with. I want to evoke that instant pleasure you feel when you experience the light and dreamy. A subconscious escape, like picturing heaven.


There's a dreamlike state to your work and I know the word has been used to describe you before, do you agree with the parallels of dream state?

I'm alllllllllll about visualising the subconscious and the dream state. I love the surrealism of Dali, the optical illusions of Escher, any weird art house films with multiple realities or confusing timelines, I even love reading about things I don't even really understand like black holes, parallel universes and the fourth dimension?? What they all have in common is they're distorting reality as we know it and that's what I find so fascinating. That's exactly the space where I want my art to exist.


Is there a constant theme you're always trying to communicate through your work, a philosophy?

The centre of my art practice is a state of mind – making space for calm when my life might be in chaos (a lot of the time). I focus my subject matter around the elements of the real world I find most beautiful and comforting — sunlight, blue skies, soft breezes, sunsets. Even though my artworks feels dreamlike, they're all grounded in reality. I want my art to be a reminder to appreciate simple pleasures, slow living and this natural beauty of life.


Do you think arts matter, tell me why

We need art to soften the harshness of reality. Artistic interpretations of life can help others see the beauty they may not have noticed before 0:)


If you weren't doing art for a living, what would you be doing?

Designing runways/sets for high fashion shows. Or a florist! Ok wait, they're both basically art forms, but if I couldn't be a creative, I think I'd just be lost!!


If the studio is your classroom, what has your art taught you about life or yourself?

My art has taught me to take in everything. If it inspires me in any way, shape or form, I'll either take a photo, draw a picture or journal. Journaling is a new one, but writing things down on good days really does get me through the bad ones. Memories fade, but you can still do things to make the best times feel eternal.


What's your next project, what's inspiring it?

Ok so, the working title is "Eurovision" (taken, I know) but it's a series inspired by the moments across my 2022 Europe trip I basically want to immortalise. It was a euro summer fantasy in my motherland and I felt completely content in every way. I want to capture that feeling forever.


If you could tell someone who didn't give a fuck about art to go and view one body of work (throughout time), what would that be?

I'd say do shrooms and visit a James Turrell's installation. Then they'd surely get it :')


Can you make me something that distills your meaning in life, it can be a drawing, words, image, song.

"simple pleasures"
LILLIAN BANKS
Bangarra Dancer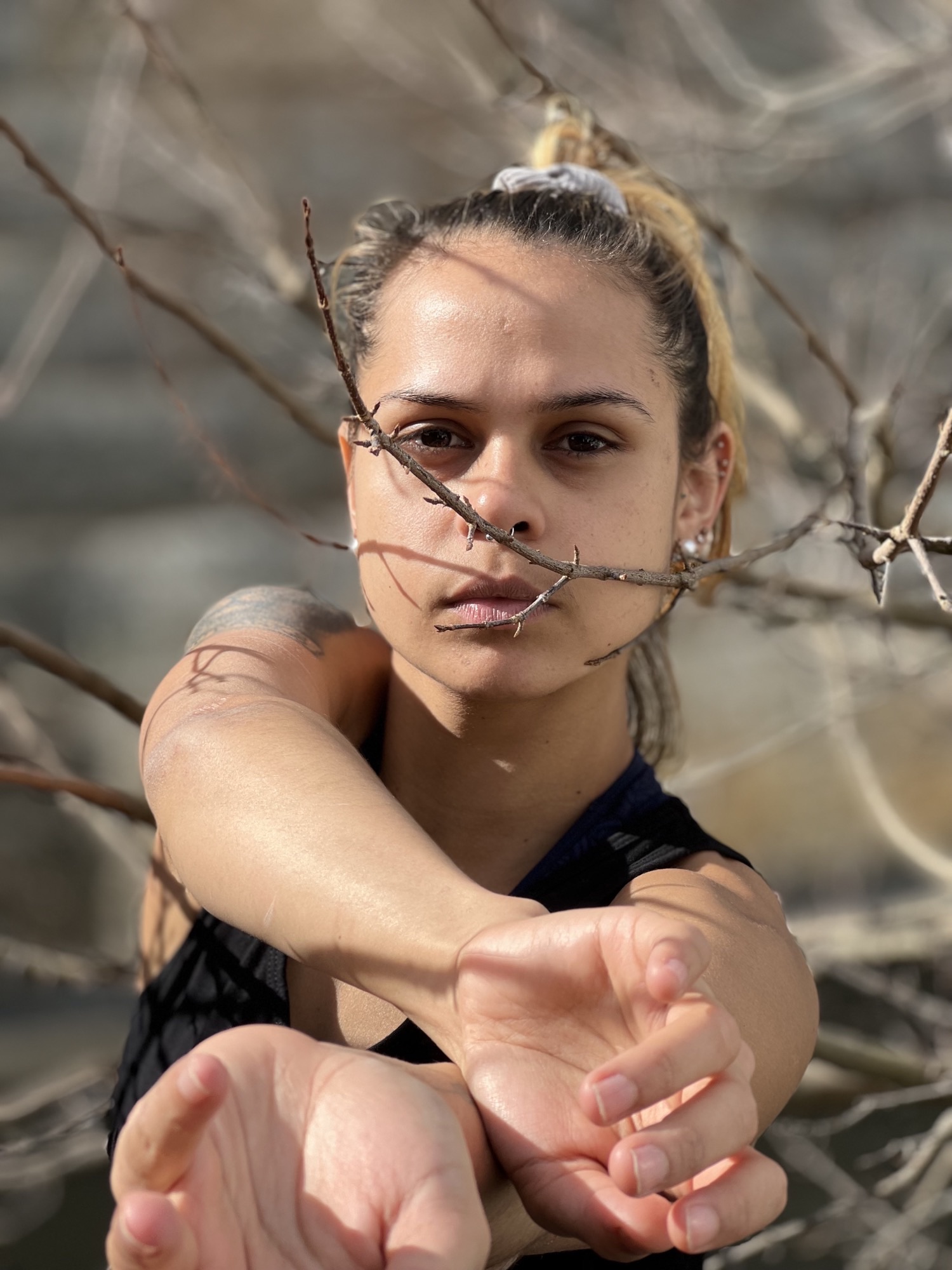 Organically the concept of transcendence is a recurring motif in this series. A byproduct of channeling your consciousness through art seems to be
a state of transcendence, but is anyone surprised?

Consciousness is not of the physical body, so why would it stay within those confines when given permission to leave?

Yawuru woman Lillian Banks attests to that observation, watching her move you believe she is not a part of the space she fills, she is beyond it. As she moves she hypnotizes, her limbs drawing out the symbols she uses to draw you into her trance. She uses her body to communicate and with Lillian there's so much to say. Her connection to her land, her ancestry and her love intensify the experience and move you in such a powerful way, it's captivating.



"When moving, I let my spirit take over, I connect to the land, sky and the knowledge passed down to me.

This connection drives my movement.

As an artist I can be influenced by the mainstream but this doesn't define me, it only inspires me to connect back to my roots.
This keeps me grounded."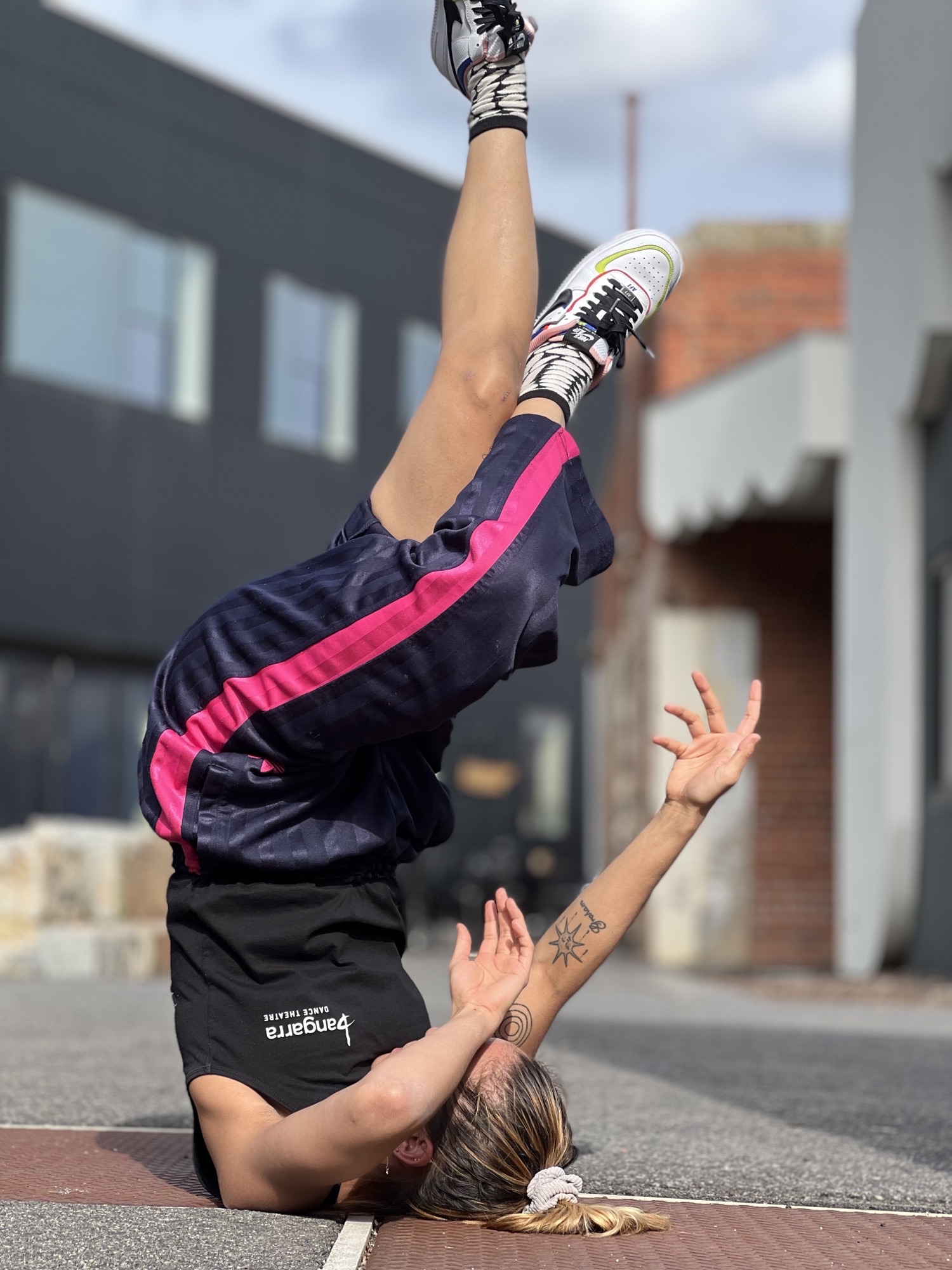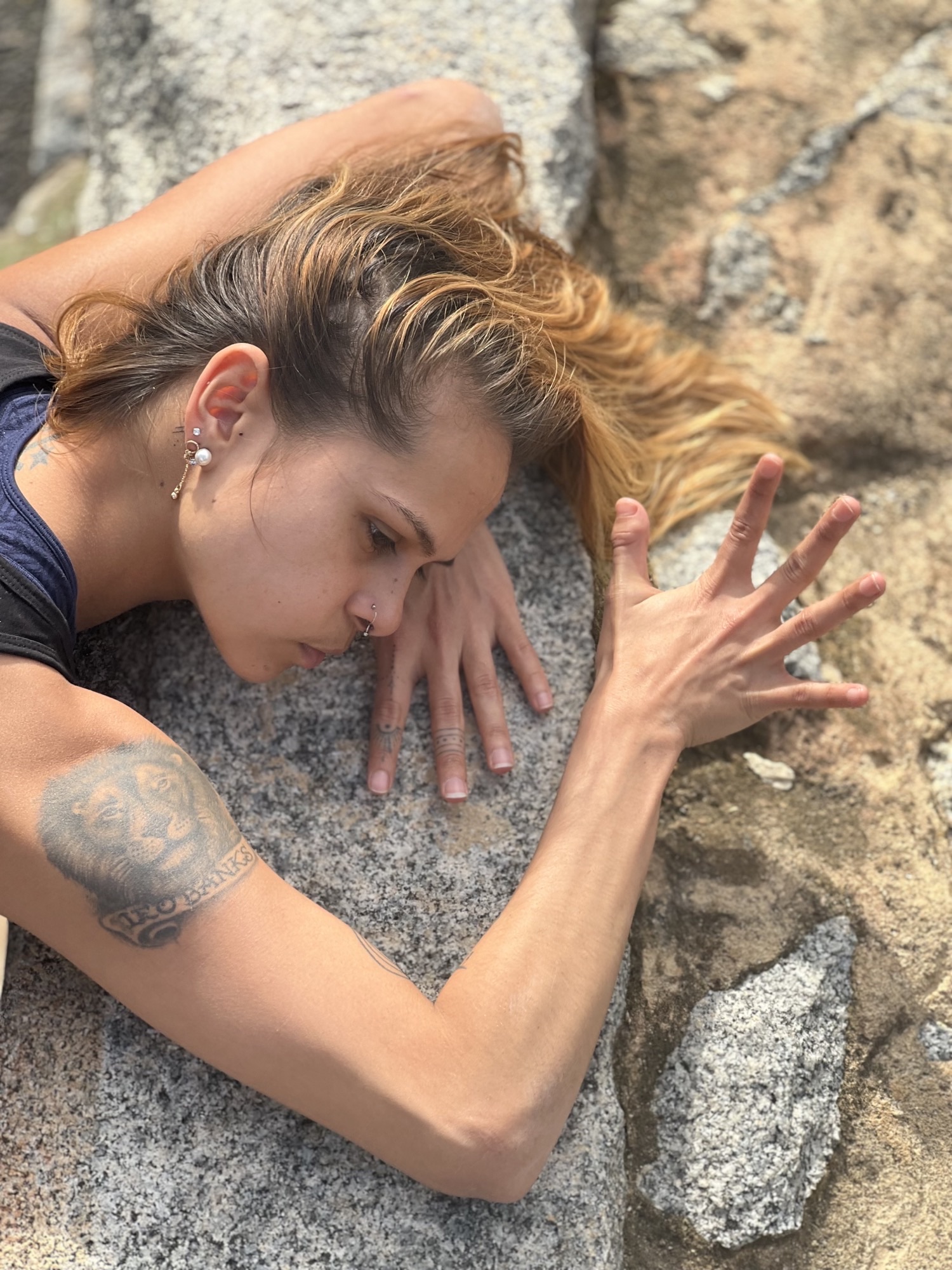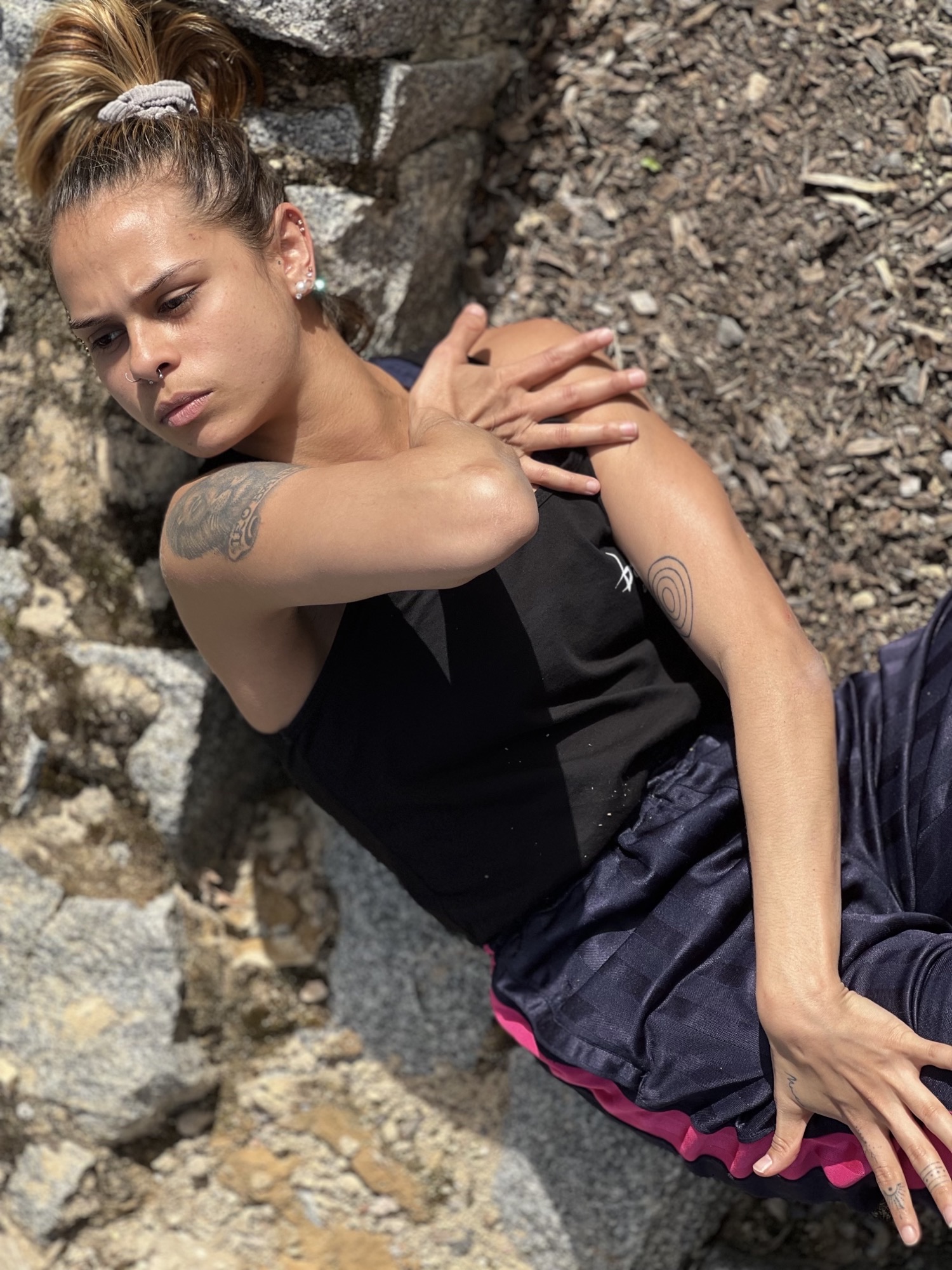 RAMESH MARIO
ARTIST
As he reveals below, one of Ramesh's deepest secrets is that he is in fact an introvert, a beautiful contradiction when you know his work. In a world where you can taste the smell of metallic and see the music in the airwaves, his art engages all of your senses at the same time and the result is the strange and dreamy sensation of transcendence. Perhaps it's the lack of rule following, or the seemingly unharmonious approach to each piece, but it works so well and it's so fucking cool.


As to the un-harmoniousness of his work, there is in fact a very conscious and cohesive theme present; religion and its iconography. Raised in a christian household, at a young age he was captivated by religious idolatry and the symbology he found through it. Later in life he sought out the iconographies of all religions, fascinated that it was always there in some form. His work today is an exploration into the history of religious semiotics, using his hands to excavate iconographies from all religions.


His captivation with religious deities and idols is a beautiful expression of consciousness in my opinion. Man yearns to find meaning in life that is larger than he, the exploration of those discoveries tells us so much about the similarities of humankind, separated by time and distance, but unified by the search for truth. Ramesh's curiosity for man's curiosity is art in its own.


What gets you out of bed in the morning?

I love making art! I know this seems like a predictable response. But I often have to ground myself and remember that I get to emerge EVERYDAY and do the thing I love the most (make and engage with art!) with a level of freedom and comfort that is relatively uncommon in our industry.


What excites you most about the art world, and what excites you the least?

The bending of geographical axis points is so exciting. Globally, our industries are no longer solely looking to Europe and the United States as THE centres for contemporary art and culture. There seems to be a better understanding and valuing of the Global South..


What's your greatest challenge in life and work?

BALANCE! I don't even know what this practically means. Sometimes work is more fun than life… so I spend most of my time in that physical and mental space. I do recognise it might be nice to have other hobbies… but they can wait!


What's your idea of total happiness?

The world is constantly changing. I try to not be rigid when thinking about these grand ideas or provocations. A life with good food, people, diverse cultures and ideas sounds pretty good.


What's your idea of total misery?

A life that is singular and monocultural.


What are the qualities you admire the most in other artists or creative people, and why?

I think the best artists break rules with sharp intent. Creative people are often afforded opportunities to do this in open and speculative ways. Thinking, feeling and doing in non-linear and non-prescribed ways can lead to amazing things.


What do you value more in art you love/inspires you - talent or testimony?

I don't feel talent and testimony need to be separated. But for the sake of the question, I'd always go for testimony. I'm interested in ideas, not pretty pictures.


What if no one ever bought another sculpture or painting from you, what would you do?

I'd teach.


Tell us something no one knows about you.

I'm an introvert.


What's the worst advice you've ever been given, and what's the best?

The best advice…be wary of compliments. The worst advice…respect the hierarchy.
LYNN MATHUTHU
MODEL & PODCASTER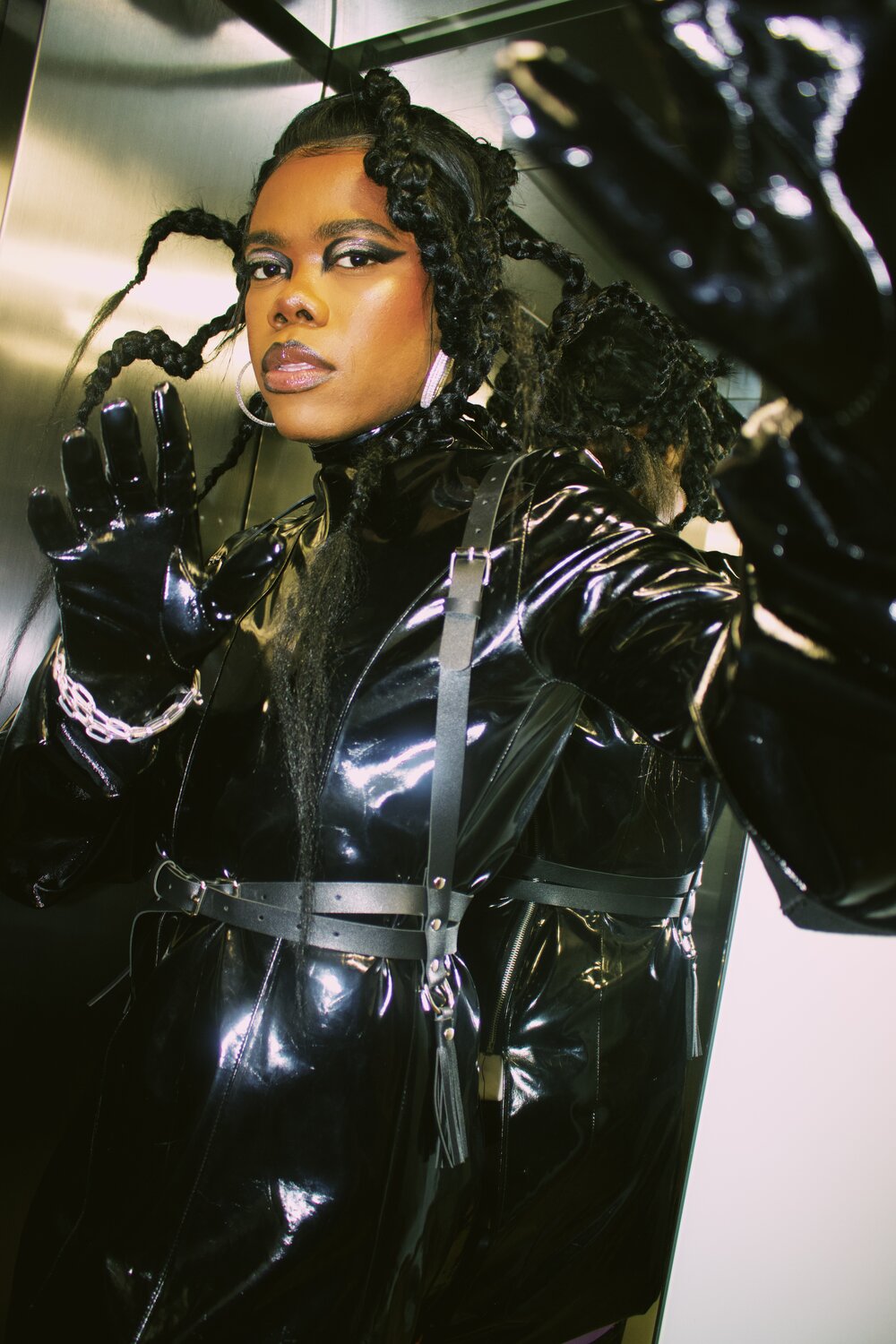 Lynn is an open book, reminding you of when and why you fell in love with fashion in the first place. When you work in the industry for long enough, everything feels like business and it's easy to forget that its origin was to celebrate creativity, forged from love & passion and an innate desire to wear our hearts on our sleeves, literally. Listening to Lynn reminds me how special fashion is, how fun and deep and profound it truly is. What it communicates, what we declare through it, what we fight for with it, what power it really has. It's emotional, vulnerable, psychological.

Lynns unwavering excitement and celebration of fashion is infectious, every day choosing to remain curious and open to its evolution, traits you realize the older you get are hard fought for in a world where cynicism is almost an inevitable landing point after being immersed in the fashion world for so long. A continuous bright eyed bushy tailed love for fashion is the result of tenacious passion, not naive participation.

Lynn embodies the original definition of an influencer, in its purest form. He inspires, he paves, he prompts, he influences.



What is your current state of mind?

I write my responses in transit at gate 264 in the Incheon Airport in South Korea, so I imagine my current state of mind is slightly more melodramatic & reflective than usual; however, grateful nonetheless. Firstly, I'm torn between two places. One half laments the end of my travels while the other tries to forcefully reminisce on the experiences I had. In the last two months, I experienced what life is like outside the constraints of work and a mundane routine. Abandoning this sensibility & returning to 'normalcy' is going to be an adjustment. However, I look forward to seeing my friends and anticipate living a less nomadic lifestyle.


What's a style sizzle?

I was traipsing through the 3rd Arrondissement near Le Marais, which was a lively enclave inundated with consignment stores and op shops, when I bought my black and lime boxing shorts. I had no intention of styling them in a particularly interesting manner as I sought to wear them then & there because my legs couldn't withstand the Parisian heat. However, that evening, as the weather had cooled significantly, I was ruffling through my luggage, frantically deciding what to adorn myself with for dinner. I put on my Dion Lee eyelet pants, layered the boxing shorts on top, and was instantly gratified. Paired with a black cross tie top with an exposed back, a 2 euro "Berlin" hat I bought at a flea market, some chunky orange flip-flops, speed dealer sunnies, and my Chopova Lowena necklace. I thought that was a close-style sizzle. I seem to recall some local Parisians being fond of it also as they weren't shy with compliments.


What's a style fizzle

Ever since I found my personal style, I've been actively conscious of avoiding style fizzles. However, I seem to recall an early teen version of myself wearing boat shoes, khaki chinos, and a Zara floral printed shirt out to lunch with some friends. I still recoil & cringe at the thought.


Who are your style/fashion heroes and why?

I have recently discovered through US Vogue's YouTube series two fashion collectors, Michelle Ellie ( comme de garçon collector ) and Andrew Fury ( Galliano at Dior collector ). I was entirely enchanted watching them ruffle through hundreds of pieces from Rei Kawakubo and John Galliano's tenure at their prospective brands. To me, fashion & clothing have always been an art form so seeing them collect unique pieces over the years is so fascinating. I also have previously declared my love for Kristen McMenamy. She is a timeless muse of mine, and her dress sense is inexplicably tied to her personality. I try and emulate that through my own dressing. I also thoroughly enjoyed what Patricia Fields did with the character of Carrie Bradshaw in the series sex and the city. Her ability to match a quirky accessory such as the Secretary horse head bag as seen in one of the earlier seasons, or the use of a belt as a mid-torso accessory fascinates me. It shows the playful side of fashion & how creative you can make it if you're unafraid of judgment.


Describe your sartorial style vs your life-style

My Sartorial style mainly consists of op-shop oversized suits layered with oversized shirts, in a Mary Kate & Ashley Olsen off-duty kind of way. Whereas my life-style is dependent on my mood and the event. I've recently become a skirt lover ranging from a Jagged Japanese denim B-R-B skirt to an almost nun-like length Ninamounah skirt that caresses my ankles. Pairing these with an interesting shirt or a bodysuit always gratifies me. I would also say I'm less likely to accessories in my sartorial style, simple but chic, whereas in my lifestyle, I'm unafraid to add furry legwarmers, a balaclava, oversized sunnies, or a printed headscarf!


Describe each of your looks and your emotional state while putting them together

I could do this for hours!

I've already described the first look, which is the layered boxing shorts over the eyelet pants; however, I omitted to include my emotional state while putting it together. I wanted to go for something comfortable and chic that would turn heads, but for the right reasons; it could be the Aquarius in me, but I always think if at least one person isn't looking, was it a look?

The second look I wore to Versailles, one of my favourite places purely for my fascination with Marie Antoinette. I'm wearing my Ninamounah skirt, my travel companions shirt, and some Margiela tabi loafers, which cannot be seen in the image. Putting together the look was quite simple; I was emulating Marie Antoinette's court if she existed in 2022, with a touch of royal modesty apart from the two slits in the side of the skirt.

The third look I wore to the National Gallery outside Trafalgar square. The look consists of a thrifted poplin blue collar short, some APC ribbon shorts layered over high-waisted blue jeans, orange socks, and some Ninamounah shoes. I was going to the gallery, so I wanted to emulate a sort of art curator who, in turn, knew nothing about the art but still managed to maintain the illusion.

The fourth look I wore to Portobello Markets in Notting Hill. The look consists of mostly thrifted pieces apart from the Stand Studio tote bag and the shoes. I do not remember my emotional state with this one; I think I just wanted to go for something simple and chic!

The fifth look I remember quite vividly. The day prior, I had my heart broken in the Prada store on Old Bond St when I asked If I could try on some kitten mules; however, I have size 43 feet, and the highest size they went up to was 41. I left the boutique with my tail between my legs. However, I was awfully inspired by the sales associate's uniform. That evening I had dinner plans at a local restaurant, so my look emulated a Prada store employee off duty. The same poplin collard shirt layered with my black string top, my wrap skirt, which I made asymmetrical, orange socks, and my tabi loafers. It was the only thing that could console me from the devastating occurrence of what I now call shoe-gate.

The sixth look was quite simple; I was on the way to watch Les Miserable at the Sondheim theatre (again). I wanted to emulate what I thought a young fashionable aristocrat would wear. With my very formal white collard shirt layered with a Garbage-TV Tee, the same Dion Lee pants layered with my wrap skirt, and some Gucci clogs. I love layering, it makes everything more interesting.


What do you consider the most overrated virtue and why?

The most overrated virtue is the inability to find humor in everything; it's a deeply serious world with deeply serious problems. There's nothing wrong with being solemn, but a solemn state is likely to bury you if you can't find room for laughter.


What is your motto?

My motto stems from my spontaneity and also my ubiquitous love for Lana Del Rey - 'Live fast, be wild and have fun.' Most of my decisions during my European escapades were formulated with this at the helm, and for that, I had a marvelous time!
LYNN'S PHOTO DIARY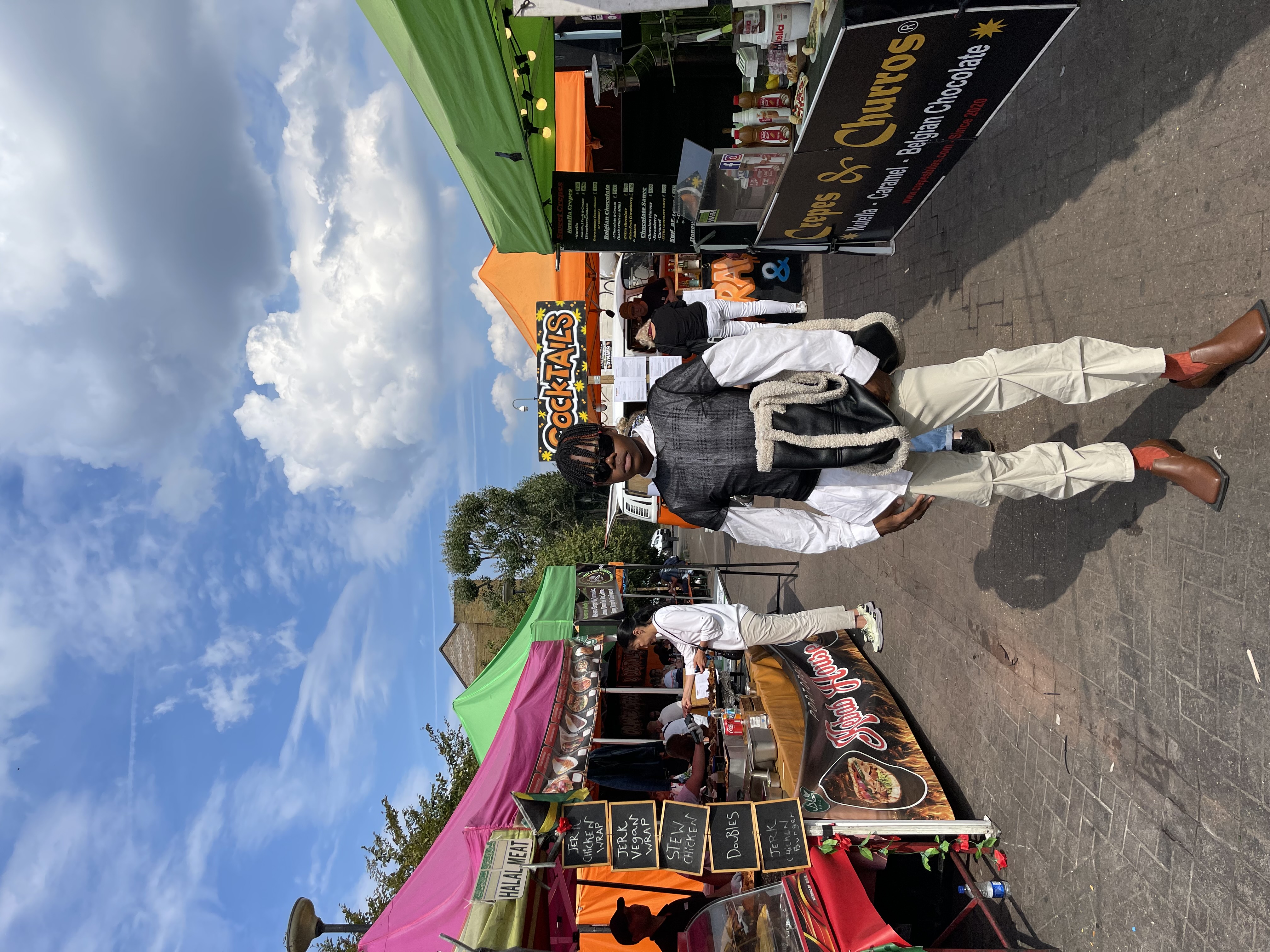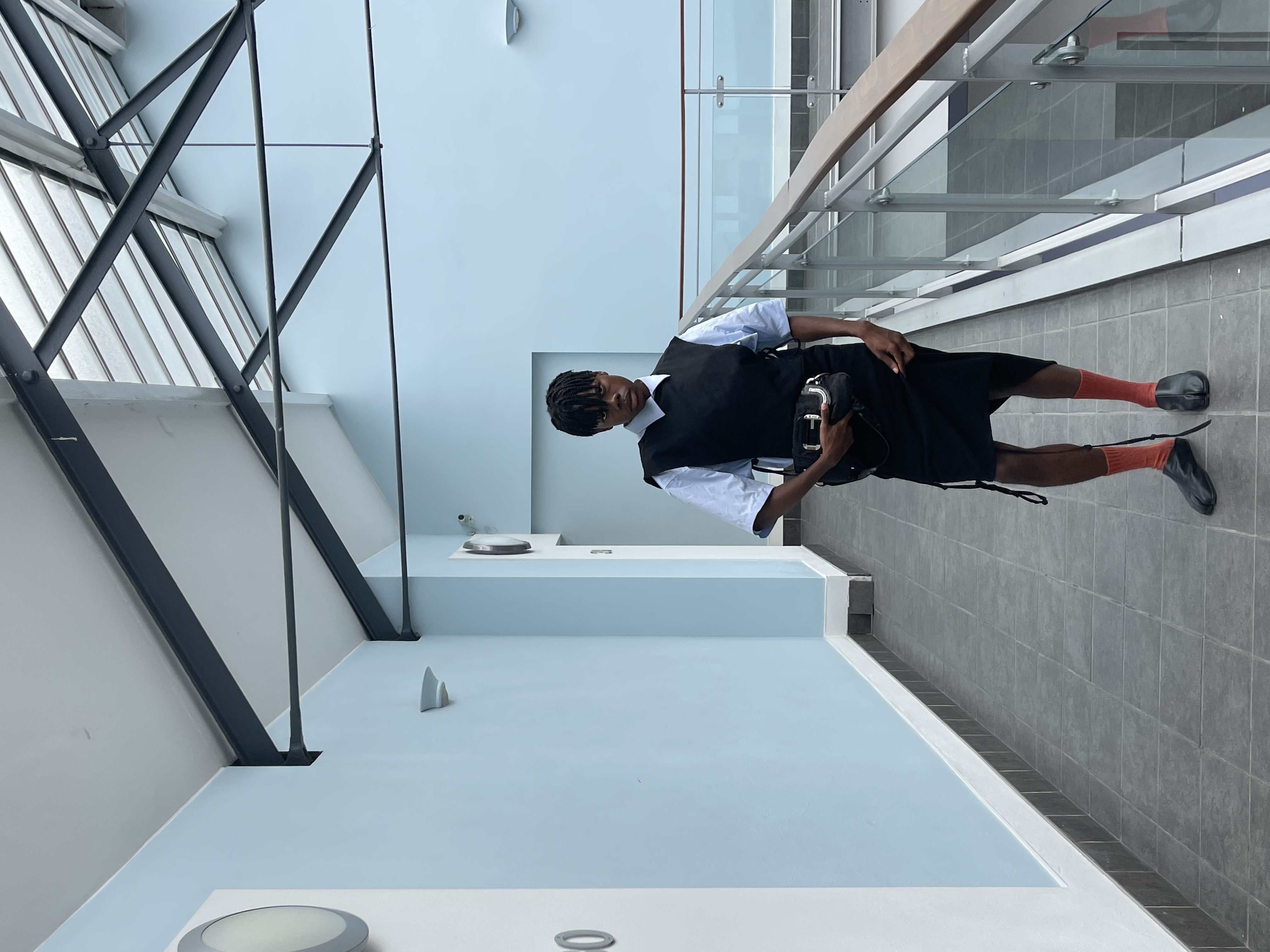 newsletter

email ︎︎︎
KCP Collective respectfully acknowledges the Traditional Owners of Country throughout Australia and recognises their continuing connection to land, waters, and culture. We pay our respects to their Elders past, present and emerging. Always was, always will be.