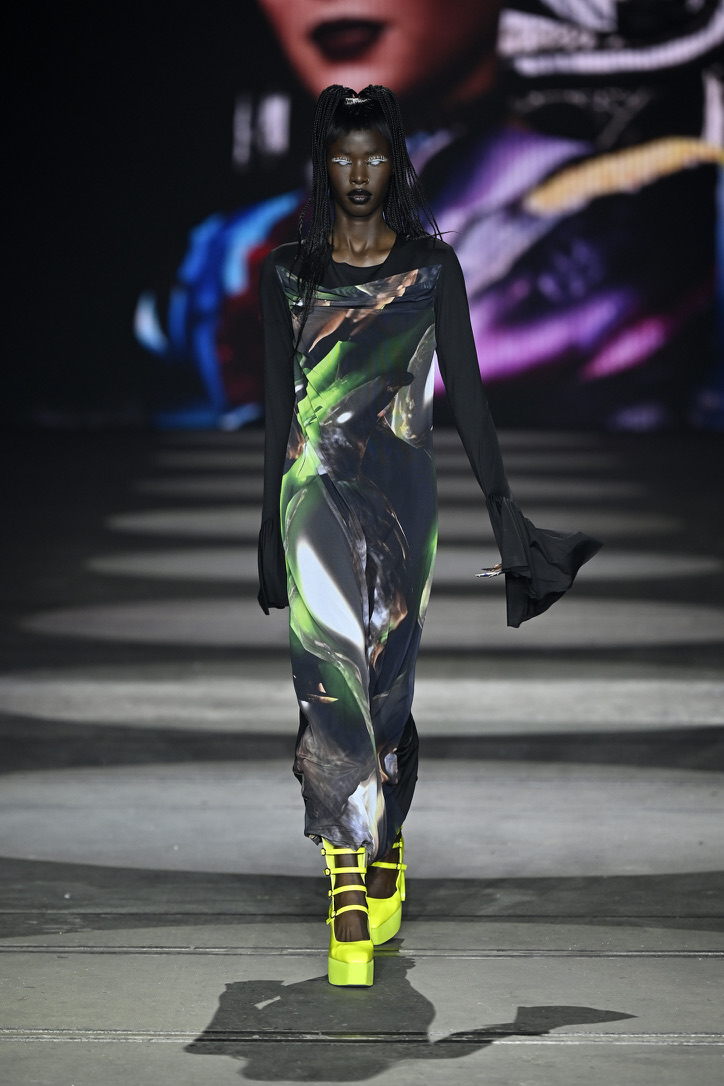 .
The name INJURY - 'When you are being cut and sewn, you are in a situation of INJURY same as fabrics'.

INJURY is an Australian interdisciplinary brand of fashion, music, CG films, digital fashion, and art collectibles merging realities, founded in Sydney in 2004, by Founder and Creative Director Eugene Leung.

INJURY is rooted in the notion of liberation, free from any categorical pre-conceptions and is never bound by gender, seasons and age, INJURY is about liberation and innovation, designing a hybrid of everyday classics and avant-garde styles, blending function and fashion to create transformative pieces for non-conformists.

The Australian label has showcased their runway collections at worldwide on-schedule fashion weeks including Paris, New York, London and Shanghai. Their collections has been worn by the likes of Vera Blue, Lisa (BLACKPINK), Ruel, Will McDonald, MAY-A, Guy Sebastian, Ronan Keating, RatCat, Nicole Miller, Huang Xiao Ming and Sammi Cheng. The label has been regularly featured in SHOWstudio, Hypebae, VOGUE, Harpers Bazaar, Refinery29, Nowness, GQ Magazine, WAD magazine, WWD, So-en, Mens non-no, Sense, ELLE magazine, Marie Claire etc. INJURY has launched successful full distribution in Asia, US and were sold to over 80 prestigious fashion retailers internationally including DressX, Oak NYC, Isetan, I.T., D-mop, Liger Store, Harvey Nichols, Alter Style and The Fashion Door, Boy+ etc.

As a sustainable-conscious brand, the design duo Eugene Leung and Dan Tse cut down carbon emission and wastage during the usual clothing sampling process by 70% by incorporating digital clothing simulation into their design process and create only made-to-order long-lasting pieces with quality craftsmanship.




INJURY has created the first-ever 100% CGI Fashion Show 'The Butterfly's Dream' in the continent in Year 2021 and the first Metaverse Show at AAFW 2022 that bridges Fashion Metaverse, Tech, Music and Art in May 2022, where he premiered his second CGI Fashion Film 'Rare Reality'. The fashion film has won numerous film accolades including Winner of 'BEST DIGITAL FASHION' fashion film at Berlin Fashion Film Festival, Winner of 'BEST VISUAL & SPECIAL EFFECTS' at UK Fashion Film Festival and WINNER OF BEST FASHION FILM, WINNER OF BEST CREATED ENVIRONMENT at SENSEI FILM FESTIVAL. The film is also officially selected and screening at ASVOFF 14 (Paris) and on SHOWstudio.com

newsletter

email ︎︎︎
KCP Collective respectfully acknowledges the Traditional Owners of Country throughout Australia and recognises their continuing connection to land, waters, and culture. We pay our respects to their Elders past, present and emerging. Always was, always will be.